BABYMAMALAND TRADING (002858921-A)
Welcome to Mamaland, the best baby stroller and car seat seller in Petaling Jaya, some even said in Malaysia.
Our office details are as follow:-
𝗠𝗮𝗺𝗮𝗹𝗮𝗻𝗱
R-03-10, Emporis, Persiaran Surian,
Kota Damansara, 47810 Petaling Jaya, Selangor
➡𝗪𝗮𝘇𝗲: 𝗠𝗮𝗺𝗮𝗹𝗮𝗻𝗱 𝗕𝗮𝗯𝘆 𝗦𝘁𝗿𝗼𝗹𝗹𝗲𝗿 𝗖𝗮𝗿 𝗦𝗲𝗮𝘁 𝗦𝘁𝗼𝗿𝗲 𝗠𝗮𝗹𝗮𝘆𝘀𝗶𝗮 (𝗘𝗺𝗽𝗼𝗿𝗶𝘀)
Drive there using Waze: https://waze.com/ul/hw281zqdqc
𝗖𝗵𝗲𝗰𝗸 𝗼𝘂𝘁 𝗼𝘂𝗿 𝗚𝗼𝗼𝗴𝗹𝗲 𝗠𝗮𝗽:


🚪𝗠𝗮𝗺𝗮𝗹𝗮𝗻𝗱 𝗙𝗿𝗼𝗻𝘁 𝗗𝗼𝗼𝗿🚪
From first floor, take the center glass lift to 3rd floor.
Turn to the back of the lift, walk straight to the middle alley between 𝗜𝗿𝗶𝘀 𝗛𝗮𝗹𝗹 and 𝗟𝗲𝗲 𝗖𝗹𝗮𝘀𝘀𝗶𝗰 𝗛𝗮𝗶𝗿 𝗔𝗰𝗮𝗱𝗲𝗺𝘆. Our shop is on the left, second unit.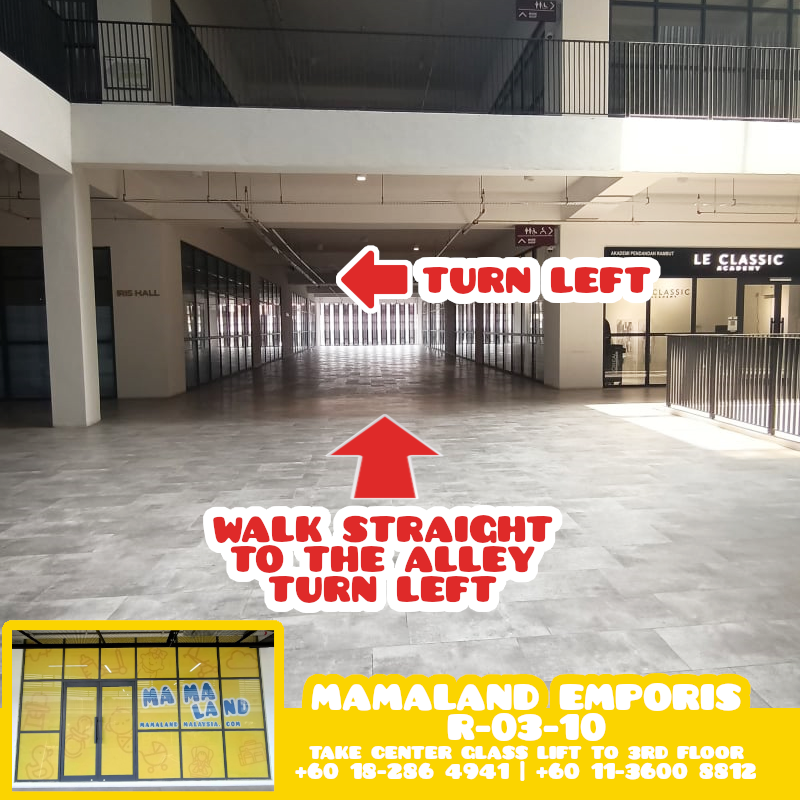 🕗𝗢𝗽𝗲𝗿𝗮𝘁𝗶𝗼𝗻 𝗛𝗼𝘂𝗿𝘀🕗
1. Monday - Friday; 10.00am-4.30pm
🍴 𝙇𝙪𝙣𝙘𝙝 𝙃𝙤𝙪𝙧: 12.30pm - 2.00pm_
𝘾𝙡𝙤𝙨𝙚 𝙤𝙣 𝙚𝙫𝙚𝙧𝙮 𝙒𝙚𝙚𝙠𝙚𝙣𝙙 & 𝙋𝙪𝙗𝙡𝙞𝙘 𝙃𝙤𝙡𝙞𝙙𝙖𝙮𝙨
𝗔𝗰𝗰𝗲𝗽𝘁𝗲𝗱 𝗣𝗮𝘆𝗺𝗲𝗻𝘁 𝗠𝗲𝘁𝗵𝗼𝗱𝘀⤵️
• Cash
• Online Transfer
• 4-month installment (0% Interest; No Additional Charge)
• Mamaland Estore (Credit Card /Debit Card /Online Transfer/ 0% Interest Installment)
For more information, please do not hesitate to contact us at +60 18-286 4941 or +60 11-3600 8812, or email us at babymamaland@gmail.com. We hope to see you soon!