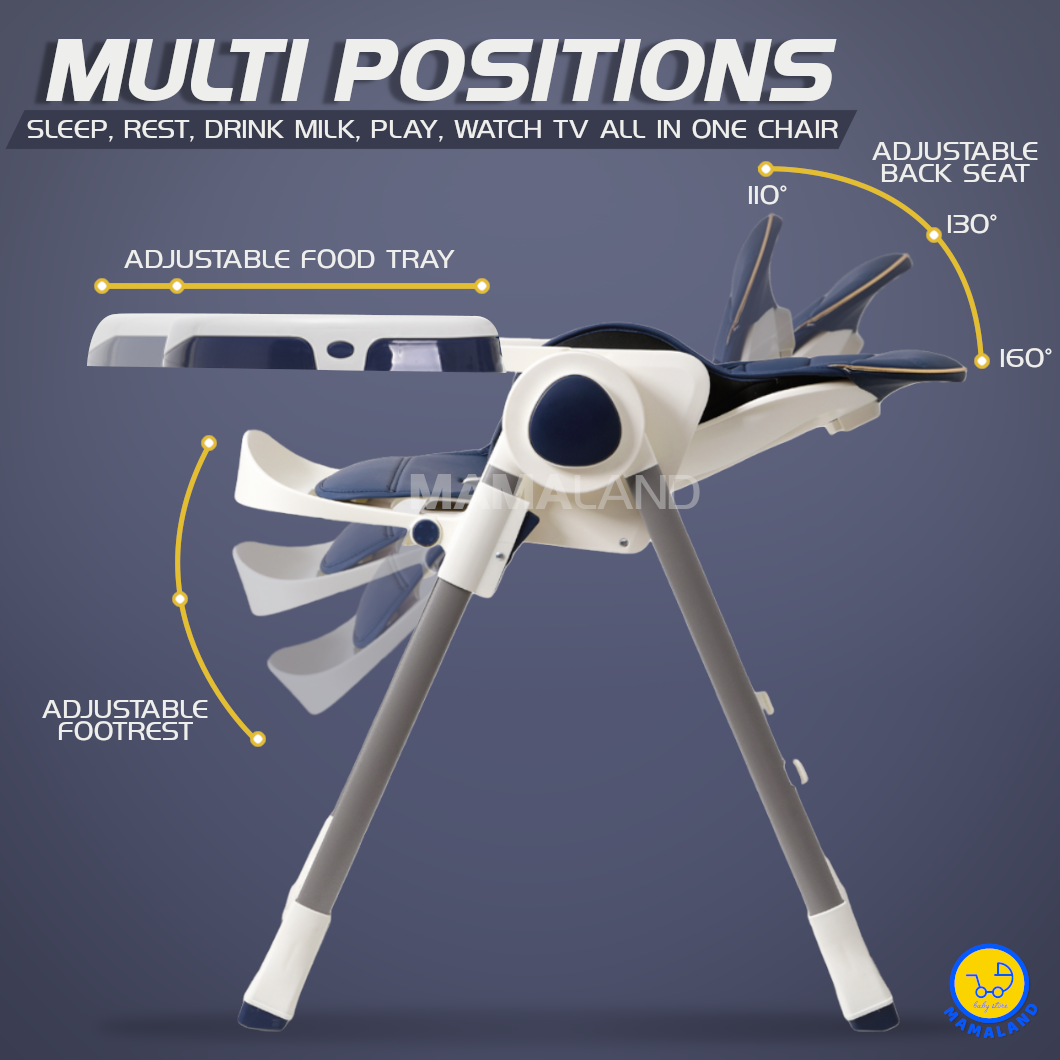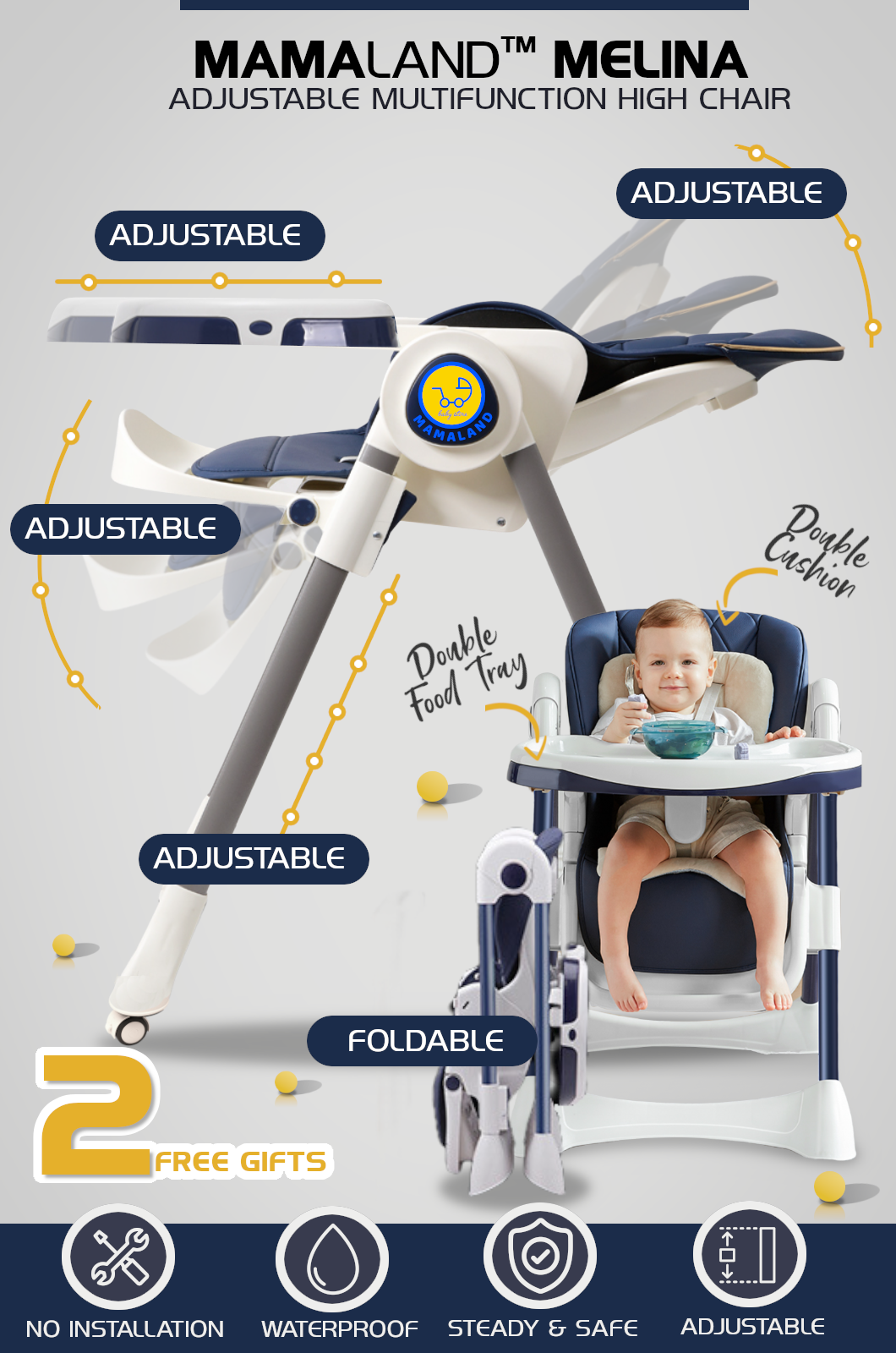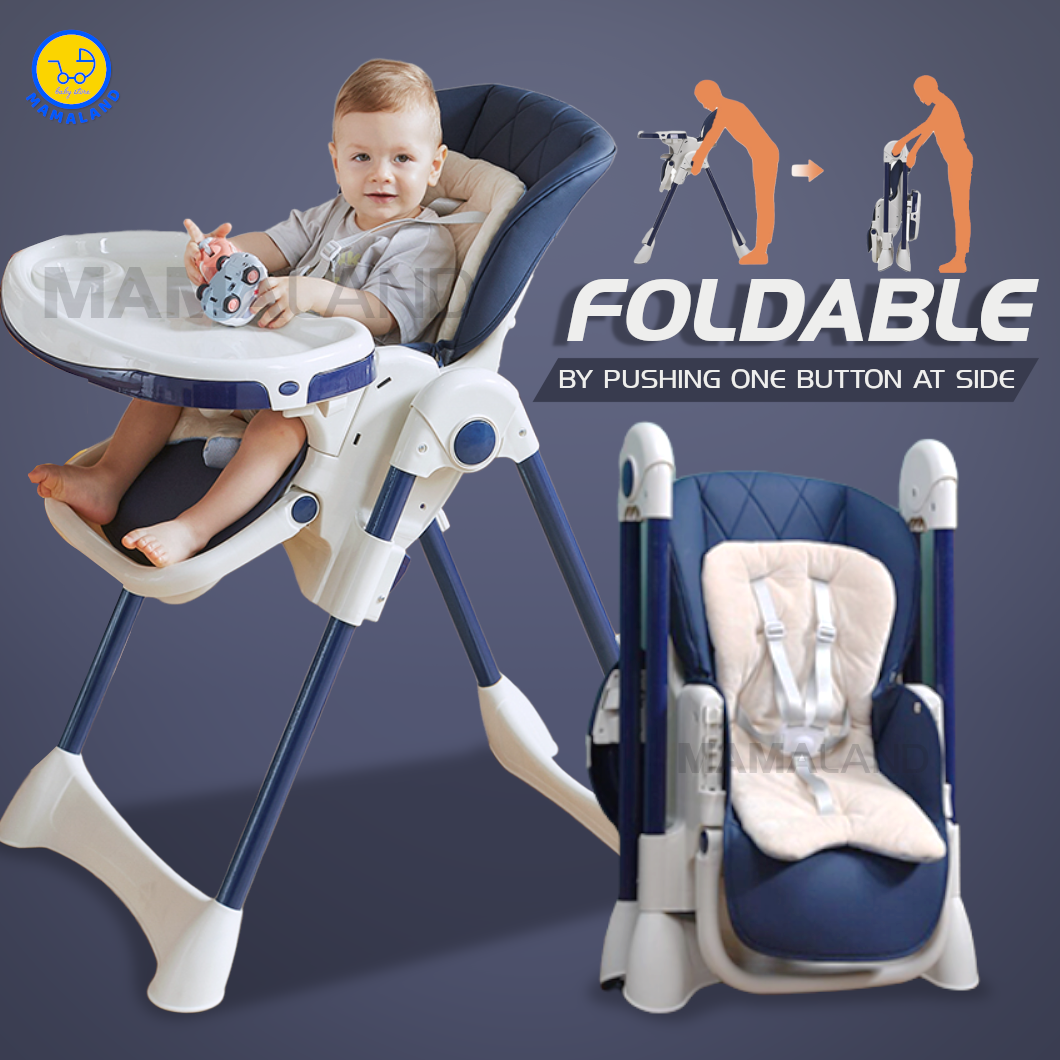 Most babies begin to eat solid food by 6th month. And this is a very challenging time because babies tend to mess around~ But it is a necessary practice as a regular feeding routine will help babies to 𝙚𝙣𝙟𝙤𝙮 𝙛𝙤𝙤𝙙 𝙗𝙚𝙩𝙩𝙚𝙧

, 𝙞𝙣𝙞𝙩𝙞𝙖𝙩𝙚 𝙜𝙤𝙤𝙙 𝙙𝙞𝙜𝙚𝙨𝙩𝙞𝙫𝙚 𝙨𝙮𝙨𝙩𝙚𝙢

, 𝙚𝙣𝙝𝙖𝙣𝙘𝙚 𝙣𝙪𝙩𝙧𝙞𝙚𝙣𝙩 𝙪𝙥𝙩𝙖𝙠𝙚

and more!
Hence, besides high patience level, a user-friendly baby high chair is a 𝗠𝗨𝗦𝗧!
Introducing,

𝗠𝗮𝗺𝗮𝗹𝗮𝗻𝗱™ 𝗠𝗲𝗹𝗶𝗻𝗮 𝗔𝗱𝗷𝘂𝘀𝘁𝗮𝗯𝗹𝗲 𝗖𝗵𝗶𝗹𝗱𝗿𝗲𝗻 𝗛𝗶𝗴𝗵 𝗖𝗵𝗮𝗶𝗿

From 6 month to 6 years old, All your baby needs is 𝗧𝗛𝗜𝗦 . 𝗢𝗡𝗘 . 𝗖𝗛𝗔𝗜𝗥!

𝗙𝗲𝗮𝘁𝘂𝗿𝗲𝘀


Adjustable backseat

Adjustable seat height

Adjustable footrest

Adjustable food tray (double layer)
Not just yet,
It can 𝗳𝗼𝗹𝗱𝘀 𝘀𝗹𝗶𝗺

and slip inside any corner~
With 𝘄𝗵𝗲𝗲𝗹𝘀 𝗮𝗻𝗱 𝗯𝗿𝗮𝗸𝗲 for easy maneuvered~
𝗟𝗲𝗮𝘁𝗵𝗲𝗿𝗲𝘁𝘁𝗲 𝘀𝗲𝗮𝘁 that can be wiped

~
Detachable 𝗱𝗼𝘂𝗯𝗹𝗲 𝘀𝗶𝗱𝗲𝗱 𝗰𝘂𝘀𝗵𝗶𝗼𝗻 that can be wash

The seat is wider~ Food trays are bigger~
So big kids can sit too!
Did we even mentioned it has a 𝟱-𝗽𝗼𝗶𝗻𝘁 𝘀𝗮𝗳𝗲𝘁𝘆 𝗯𝗲𝗹𝘁

?

𝗠𝗮𝗺𝗮𝗹𝗮𝗻𝗱™ 𝗠𝗲𝗹𝗶𝗻𝗮 𝗔𝗱𝗷𝘂𝘀𝘁𝗮𝗯𝗹𝗲 𝗖𝗵𝗶𝗹𝗱𝗿𝗲𝗻 𝗛𝗶𝗴𝗵 𝗖𝗵𝗮𝗶𝗿


Ready stock - Sapphire Blue

or Sakura Pink


Lightning speed delivery

Buy 1 Free 2
Even better,

𝟰 𝗠𝗢𝗡𝗧𝗛 𝗜𝗡𝗦𝗧𝗔𝗟𝗠𝗘𝗡𝗧 𝗣𝗟𝗔𝗡 𝗪𝗜𝗧𝗛 𝟬% 𝗜𝗡𝗧𝗘𝗥𝗘𝗦𝗧 𝗜𝗦 𝗔𝗩𝗔𝗜𝗟𝗔𝗕𝗟𝗘!

Don't ever miss this awwwwwwwwwwwesome deal

𝗠𝗮𝗺𝗮𝗹𝗮𝗻𝗱

, your best baby strollers and car seats seller in Petaling Jaya, some even said in Malaysia

-------